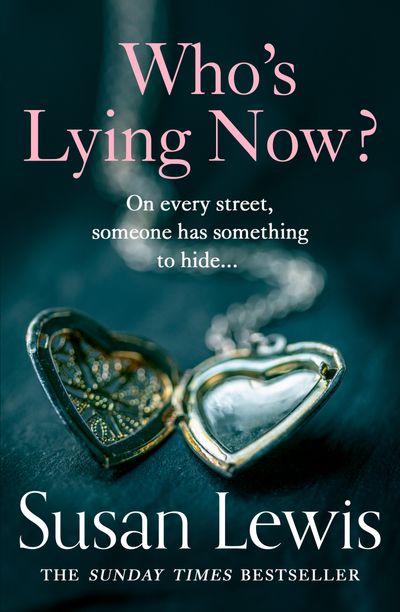 Who's Lying Now?
By Susan Lewis
Don't miss the captivating page-turner from Sunday Times bestselling author Susan Lewis
You think you know your neighbours.
When Jeannie Symonds vanishes without a trace, her small town is thrown into disarray.
You think you know who to trust.
Cara Jakes, a trainee investigator, begins to interview Jeannie's friends and neighbours, sure that someone has something to hide. Behind every door is a different story.
But how can you separate the truth from the lies?
'An immersive page-turner, filled with shocks, twists and vivid characters. I was completely captivated' B.P. Walter
"'An immersive page-turner, filled with shocks, twists and vivid characters. I was completely captivated" - B.P. Walter
Acclaim for Susan Lewis: -
"'Lewis's book has you by the collar from page one. You just don't want it to stop. Relatable characters and an unusual, intriguing plot, she kept me guessing to the last" - Hilary Boyd
"'An intriguing read that drew me in from the very beginning. It combines heartfelt family drama with a gripping plot. The characters are expertly drawn … Susan has done a brilliant job of weaving her research seamlessly into the novel" - Julie Corbin
"'I was hooked by the suspenseful plotting, depth of character and legal backdrop. This is a deep book which I greatly enjoyed. Rather like an appetite-wetting five course meal with a surprise menu" - Jane Corry
'Rich, seamless and masterful storytelling with so many 'oh my god' twisty moments… Absolute genius. I was totally gripped' Rebecca Thornton -
'Susan Lewis has a gift for telling warm family stories that also take you by surprise' Jane Corry'A gripping read' Bella -
"'A gripping and compelling tale of justice and forgiveness" - The Courier
"'A compelling, timely mystery" - Lisa Ballantyne
"'My Lies, Your Lies has gone straight to the top of my favourite Susan reads. Full of drama, intrigue with so many twists and turns, I promise you'll be surprised and captivated right to the end" - Carmel Harrington
"'A master storyteller" - Diane Chamberlain
"'Utterly compelling" - Sun