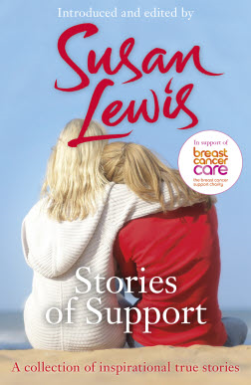 Stories of Support
An inspirational collection of true stories, introduced and edited by Sunday Times bestselling author Susan Lewis and published in support of Breast Cancer Care.

All of us face challenges in our lives and when things get really difficult we often need someone to help us through. That someone can be the person closest to us, or someone we least expected, or even, in some cases, a total stranger.
`The Stories of Support campaign was set up for people to share their story of how someone helped them, in order to raise awareness and funds for Breast Cancer Care. In Susan Lewis's novel, Never Say Goodbye, two strangers are brought together by tragedy and the bond that develops between them profoundly changes both their lives. Through Stories of Support Susan wanted to acknowledge the remarkable people who have given their support to friends, family, colleagues or the community.
The five women who wrote the stories in this collection were selected by Susan Lewis because of their moving accounts of the exceptional support they have experienced from selfless friends and family through the most difficult of times. With an introduction from Susan Lewis, Shelley, Kate, Julie, Jane and Jeanette show the restorative power of love and friendship in a collection of stories they hope will inspire many others.
Includes the first chapter of Never Say Goodbye.